The Philosophy, Approach and Benefits of the Philanthropic Conversation With Your Clients
Date:
Thursday, May 21, 2015
Location:
Minnehaha Country Club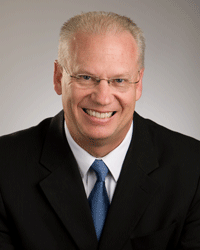 Dignity Health Names Vice President Of Philanthropy In Arizona
9/13/2013
Contact: Catherine Menor, 602-406-1041
Brian Mortenson has been named Vice President of Philanthropy for Dignity Health in Arizona, and President and CEO of St. Joseph's Foundation and Barrow Neurological Foundation. He is expected to transition to his new position by mid November.
For the past 14 years, Mortenson served as President and Chief Philanthropy/Development Officer of Sanford Health Foundation in Sioux Falls, S.D., the nation's largest rural, not-for-profit, integrated health system. Under Mortenson's leadership, Sanford Health Foundation received several transformational gifts, including a $400-million contribution, the single largest philanthropic gift ever received by a healthcare system. During his tenure, the foundation's assets increased from $8 million to $664 million, endowments increased from 17 to 620, and planned gifts increased from five to 496.
"Brian is a high-energy individual who applied for this position because of our mission, international reputation for care, and service throughout the community," said Linda Hunt, President and CEO of Dignity Health in Arizona. "He is particularly excited about building support for our programs and continuing a legacy that the Sisters of Mercy started so long ago. I look forward to what he and our philanthropy team will accomplish together."
Mortenson holds a Master of Divinity from Luther Theological Seminary and a Bachelor of Arts in Religious Studies from the University of Minnesota. He has served as senior pastor for two large churches in the Midwest and as chaplain for the Minnehaha County Sheriff's Department and Sioux Falls Police Department. He is a member of several professional organizations and describes himself as a servant leader.
Dignity Health is a healthcare system of more than 40 non-profit hospitals in Arizona, Nevada and California. Founded in 1986, Dignity Health is the fifth largest hospital provider in the nation and the largest hospital system in California.
Dignity Health in Arizona includes three hospitals—Chandler Regional Medical Center, Mercy Gilbert Medical Center, and St. Joseph's Hospital and Medical Center—with a fourth, St. Joseph's Westgate Medical Center, under construction. St. Joseph's is the home of Barrow Neurological Institute and the Muhammad Ali Parkinson Center. Three foundations support the Dignity Health hospitals in Arizona through philanthropy: Barrow Neurological Foundation, Dignity Health Foundation East Valley and St. Joseph's Foundation.​
https://www.dignityhealth.org/stjosephs/about-us/press-center/dignity-health-names-vice-president-of-philanthropy-in-arizona
Related Document(s):